Newsbin Installation Guide

Step One
Download the Newsbin installer by visiting Newsbin.com and then clicking on the appropriate Download button, either 32 or 64 bit. If in doubt, download the 64 bit version and it will automatically detect if you really need the 32 bit version. When you run the installer, you will get this warning message from Windows. It's ok, click Run to begin.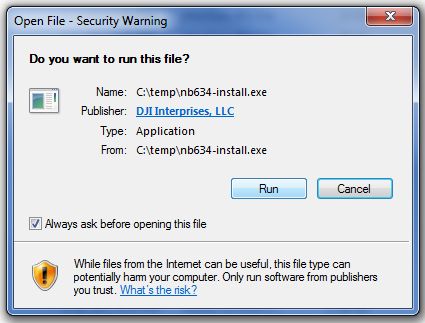 Step Two
Click the dropdown arrow and select your native language, if supported. Otherwise leave it set to English and click OK
.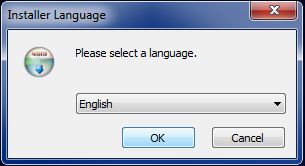 Step Three
The installer will detect whether you have a 32 bit or 64 bit operating system. If you are running 64 bits, you have the option to force the installer to install the 32 bit if you want. If you have a 32 bit operating system, you will not be given this choice. The default setting is usually right so just click Next.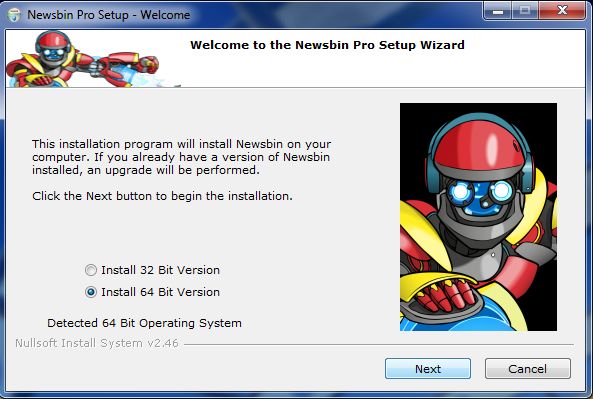 Step Four
The Newsbin License Agreement is now displayed. You can scroll down to read the agreement and click I Agree to continue.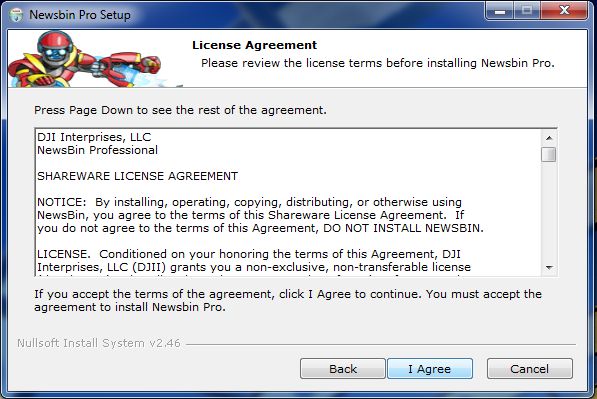 Step Five
By default, the installer will create a shortcut on your desktop, create a link in the Windows Start Menu, and associate NZB files with Newsbin. If these defaults are acceptable, click Next.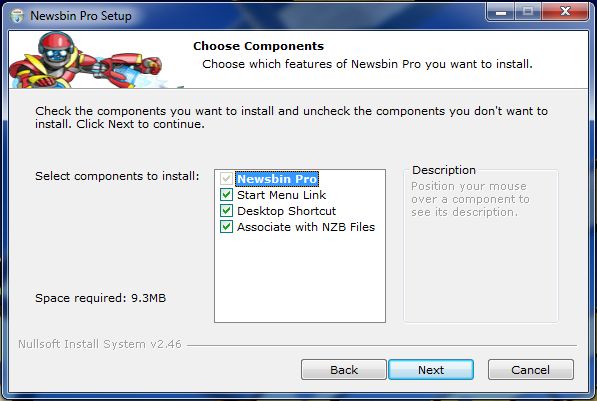 Step Six
Click Next unless you want to change the location where Newsbin is installed.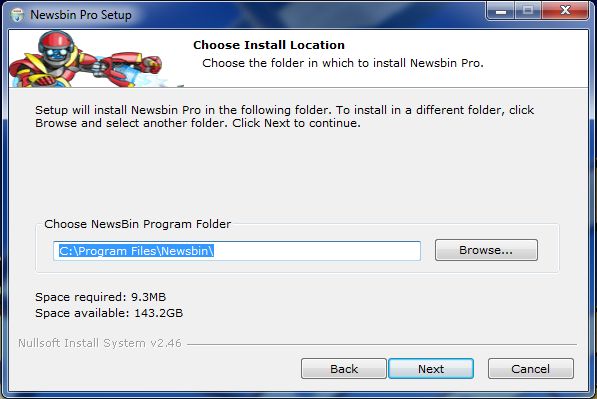 Step Seven
Since you already have an account with Usenet Server, click Yes here.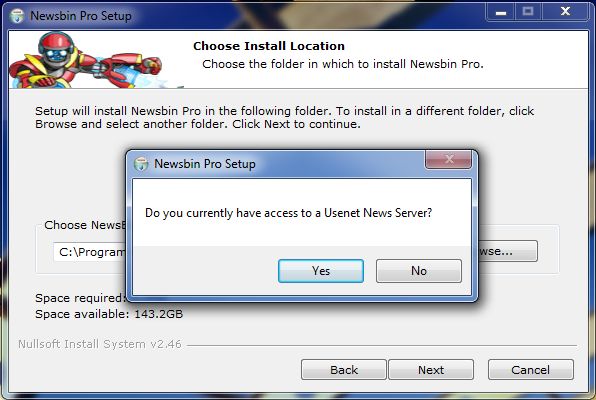 Step Eight
Here you can enter a name for the server that will be displayed within Newsbin. Either use the default or set it to something meaningful like "UsenetServer". Click Next.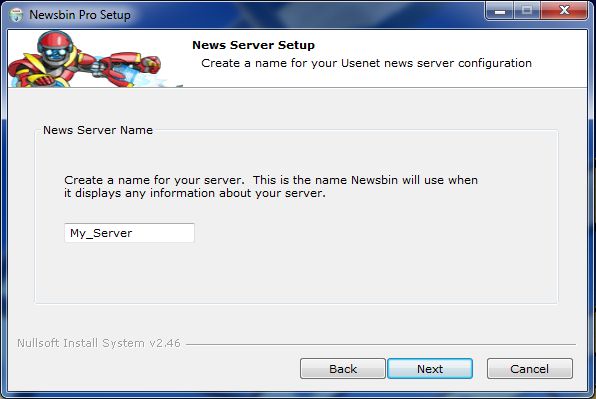 Step Nine
Enter in the UsenetServer Usenet server address news.usenetserver.com
If you want to encrypt traffic between you and UsenetServer, also click the Use SSL checkbox then click Next.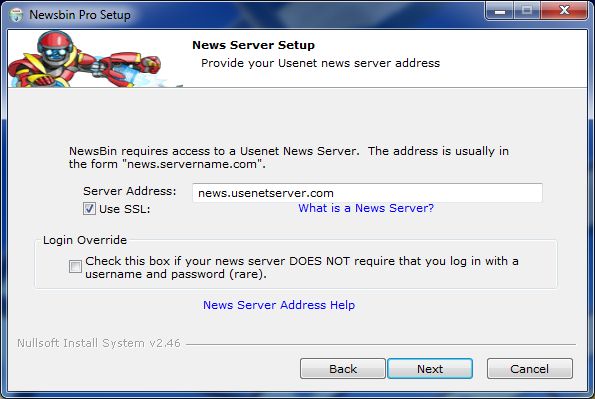 Step Ten
Enter in your UsenetServer Username and Password and click Next.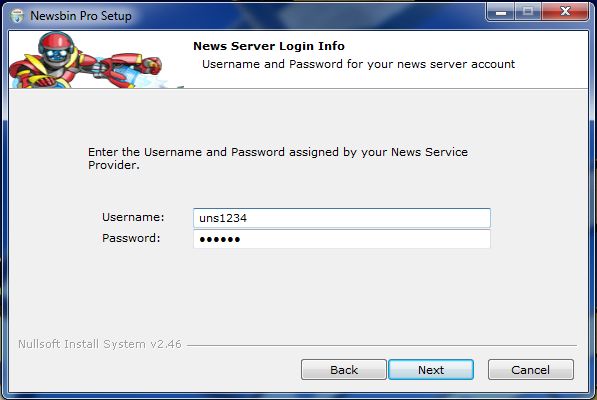 Step Eleven
The default settings will work for most people. They can easily be changed later inside Newsbin. It is rarely needed to use 20 connections to get your full download speed, the default will work better and consume fewer machine resources. Click Install.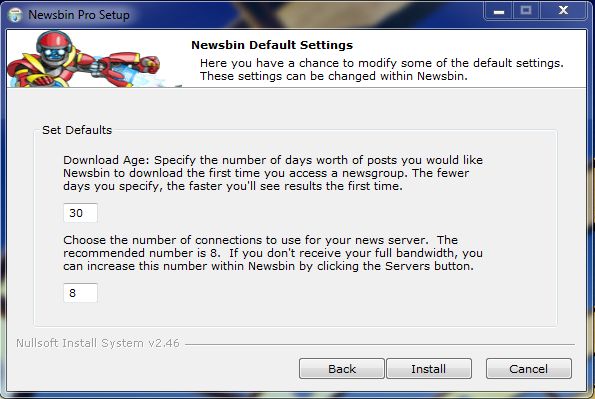 Step Twelve
The installer connects to the Newsbin servers to download the latest executable files. Click OK to continue. If the installer reports any errors, you may have to temporarily tell your firewall to allow the installer access to the Internet.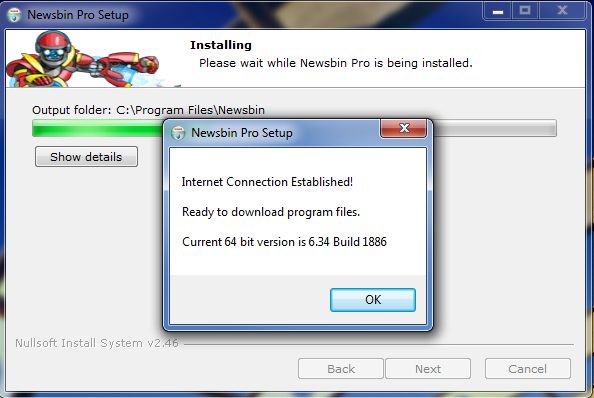 Final Step
Click Finish to launch Newsbin and view the release notes for this version. You can choose not to launch Newsbin at this time or choose to not view the release notes.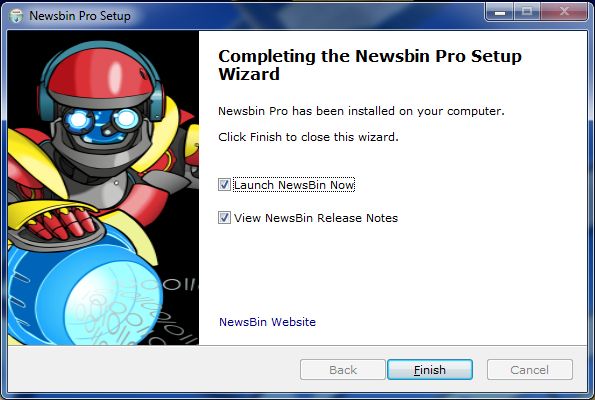 Once Newsbin starts, you can refer to the Newsbin First Time Usage Guide to help you get started downloading content from the newsgroups.